June 1, 2023
Community Giving Foundation: Berwick announces grant awards totaling $531,620 to local charitable nonprofits and government agencies through their 2023 competitive processes. These awards were funded by the following funds: Berwick Health and Wellness Fund, Conway and Gertrude Dickson Fund, Myers-Seely Fund, Theron T. Klinetob Fund, Bittenbender-Henry Fund, and Ray McBride and Edna McBride Fund.
Berwick held its annual event on May 31, 2023, to highlight the community connections that drive philanthropy in the Berwick area. During the breakfast, held at Rolling Pines, Foundation staff, board members, donors, and grant recipients shared personal stories reflecting the impact of community partnerships and local support. It was an inspiring time to celebrate the history of the Foundation's philanthropic growth in the Berwick area and honor the nonprofits making a difference in our community every day.
Community Giving Foundation: Berwick administers 56 endowed and pass-through funds, investing over $1,600,000 annually to local nonprofits and students. A complete list of funds and more information about the Foundation can be found at csgiving.org/berwick.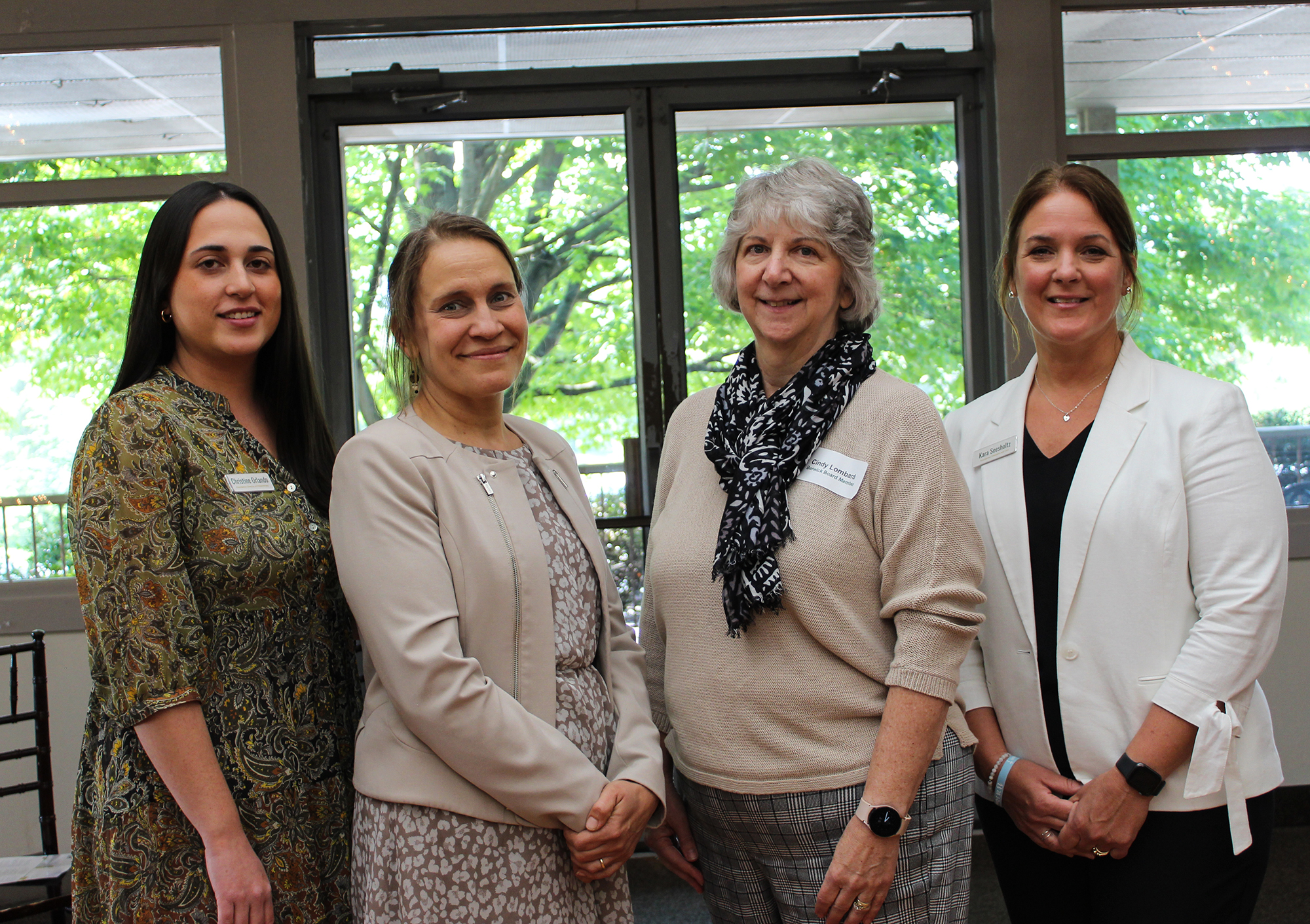 Speakers during the May 31st breakfast. L to R: Christine Orlando, Foundation Director of Philanthropy; Connie Donlin, Berwick Arts Association; Cindy Lombard, Berwick Board Member; and Kara G. Seesholtz, Foundation President and CEO.
2023 Competitive Grant Awards
AGAPE Love from Above to Our Community—Financial Assistance & Daily Bread; Happy Tails; WIN, $35,800
Benton Area School District—Kindergarten Kickoff, $6,000
Berwick Area Ministerium—Heating Assistance, $7,500
Berwick Area School District— BARK (Building Achievement through Reading for Kindergarten); Counseling Services; School-Based Prevention Education Services, $70,215
Berwick Area Swimming Pool—Replacing Large Floatables, $6,500
Berwick Area United Way—Cradle to Career Literacy Program, $6,000
Berwick Police Benevolent Association—Community Give Back Program, $4,500
Beyond Violence—Shelter Programs, $32,603
Borough of Berwick—Vine Street Park Fitness Court, $15,000
Central PA Youth Ministries—The Cliff Youth Center of Berwick, $4,500
Central Pennsylvania Food Bank—Supporting Berwick Area Youth & Families, $5,000
Central Susquehanna Sight Services—2023/24 Preventing Blindness in Our Community & Social Service Support, $5,500
Child Hunger Outreach Partners—Berwick School District In-School Pantry & Backpack Program $25,000
Columbia Child Development Program—Positive Behavioral Intervention & Support for Children & Families, $44,405
Columbia County Family Centers—Prevention Programs for Families, $40,000
Columbia Montour SWAT Team—Rescue Vehicle Upgrade & Crisis Training, $5,000
Family Service Association of NEPA—PA 211 NE, $6,000
For the Cause—Education Expansion Development Program, $15,000
Geisinger Health Foundation—Camp Courage, $10,000
Girls on the Run Mid State PA—Berwick Program Support, $2,000
Historical & Preservation Society of the Greater Shickshinny Area—Children's Library Heat & Air System, $7,750
KidsPeace National Centers—Cherished Connections Mentoring Program, $7,250
McBride Memorial Library—Children's Librarian, $19,500
Nescopeck Borough—River Area Project, $1,551
Nicholas Wolff Foundation—Camp Victory Programs & Services, $20,000
Northern Columbia Community & Cultural Center—Summer/Winter Camp Support, $15,000
Northwest Area School District—Five AEDs; Project JumpStart, $8,000
PA Pets—Program Support, $5,000
Resurgent Life—Modern Mental Health Treatment & Assistance, $6,000
The Children's Museum—Generating Positive Outcomes on Youth Mental Health, $5,000
The Little Children Development Center—Expansion & Increased Program Quality, $11,500
The Salvation Army, Berwick—Door & Window Replacement, $20,000
The Women's Center—Be the Change Prevention Education & On-Site Counseling Services, $6,000
Transitional Housing & Care Center of Columbia & Montour County—Housing First; Road to Independence, $15,000
Wesley United Methodist Church, Nescopeck—Milk, Egg, Bread & Butter Distribution, $10,000
West Branch Arts Consortium—Developing Arts Literacy in Benton SD K-12 Students, $4,545
Community Giving Foundation: Berwick is an affiliate of the Community Giving Foundation, which helps administer grant and scholarship investments. Their mission is to help meet a multitude of charitable needs of the greater Berwick area. Nonprofit organizations that provide programming in the Berwick community and surrounding areas are encouraged to apply during the 2024 competitive grant round. Details will be available January 2024 at csgiving.org/grants.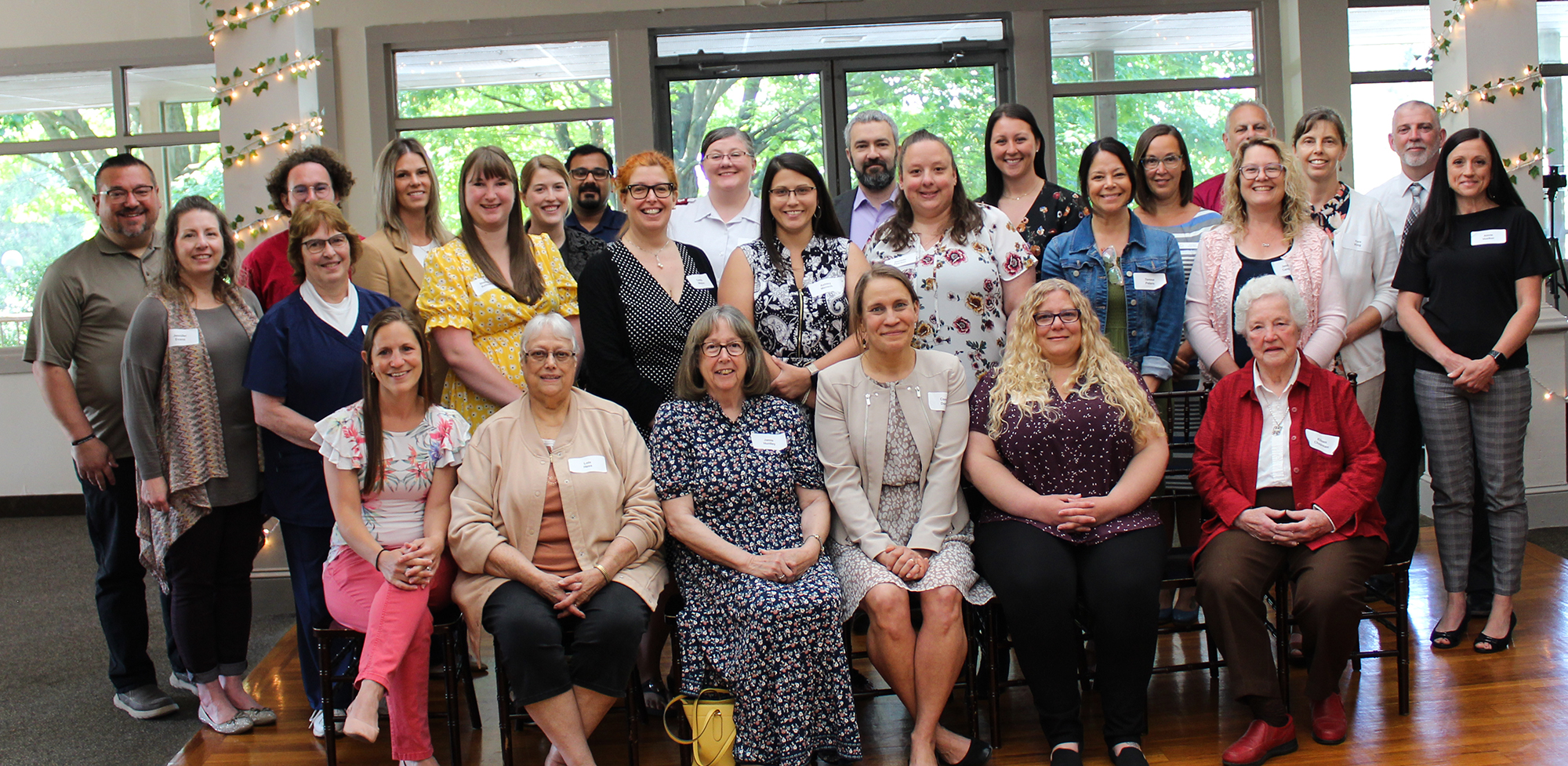 Grant recipients from Berwick's 2023 competitive grant round gather during breakfast on May 31st.