April 18, 2023
Youth in Philanthropy is a philanthropic-oriented education program offered by the Community Giving Foundation. The purpose of the program is for youth to understand the meaning of philanthropy, learn about the local nonprofit world, and take part in the grantmaking process. Through this program, students are empowered to make a positive impact in their communities now and in the future.
Youth in Philanthropy groups, consisting of approximately 15 high school students from 13 school districts in our region, completed their annual grant round during the spring of the 2022-2023 school year. Schools included Benton, Berwick, Bloomsburg, Central Columbia, Columbia-Montour AVTS, Danville, Line Mountain, Midd-West, Millville, Northwest, Selinsgrove, Shikellamy, and Warrior Run.
Eric Pangelinan, program officer of the Foundation, commented, "This year's students spent time creating and administering a needs assessment process which included focus groups made up of fellow students and community members. The students synthesized the results of their needs assessment and used this data to prioritize their grant awards."
This year, 65 grants totaling $63,500 were awarded. On Tuesday, April 18, 2023, student representatives from each group presented grant awards to grantee organizations. The year-end ceremony was held at the Danville High School auditorium. These grants were funded by generous community support. Lists of 2022-23 program sponsors and grant recipients are included below.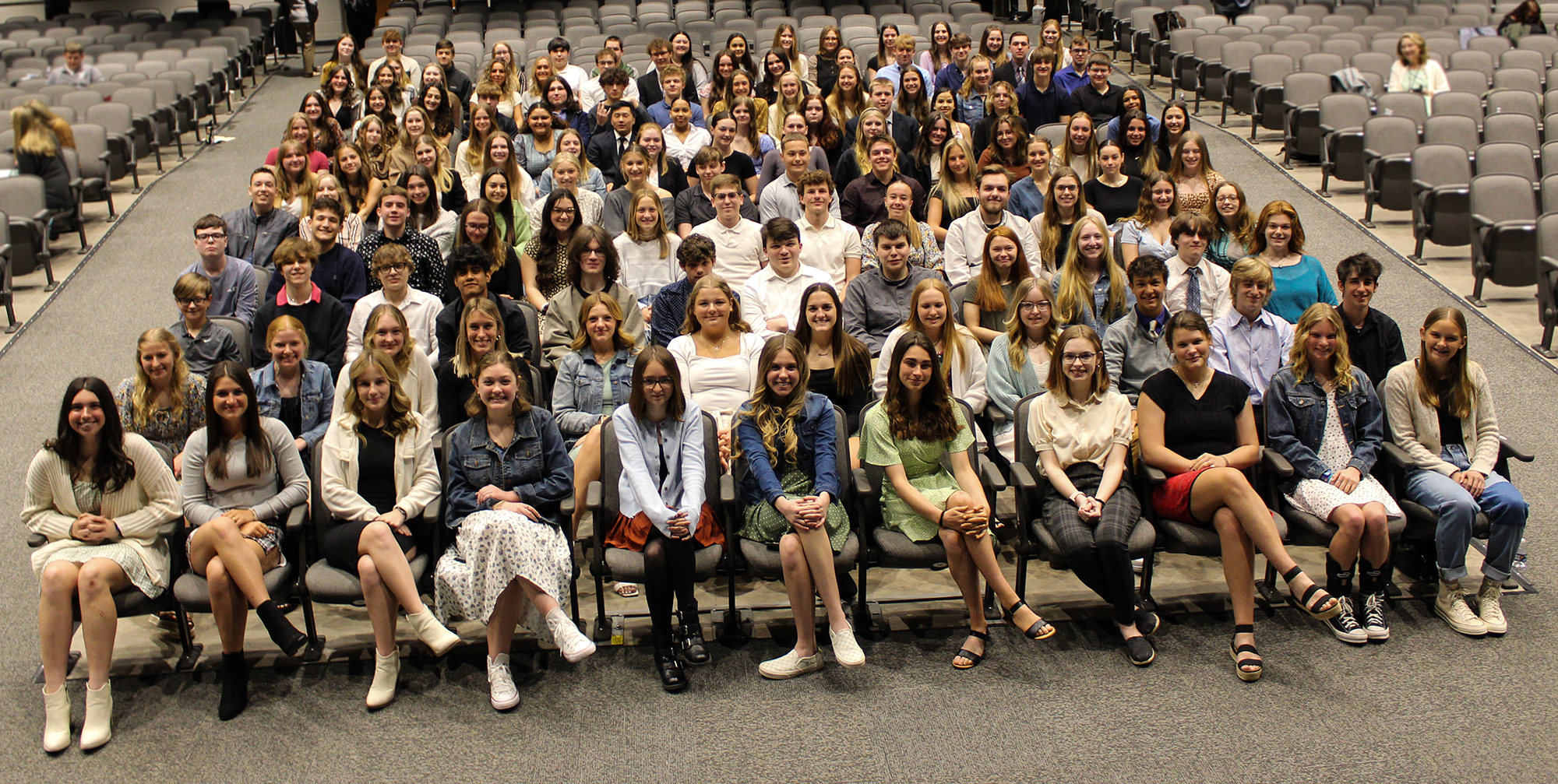 Youth in Philanthropy Donors, 2022-2023
Anonymous
Berwick Health and Wellness Fund
Central Columbia Educational Foundation
Community Giving Foundation: Sunbury
Danville Superintendent's Educational Initiative
Dr. and Mrs. John M. Kurelja
Dr. M. Holly Morrison
Ennis-Visneski Fund
Holdren Family Fund
Joan and Fred Miller Family Fund
Millville Area School District
Millville Community Foundation, Inc.
Mrs. Nancy J. Marr
Ms. Julie Petrin
Ms. Nancy Mathna
Neighbors Helping Neighbors Fund
Patricia H. and Richard E. Garman Fund
Robinson Donor Advised Fund
Seebold Family Fund
Sunbury Operating Fund
The Booth Family Fund
The Cole Family Fund
Victor and Linda Marks Family Fund
Warrior Run Education Foundation
And Other Foundation Donors
Youth in Philanthropy Grant Recipients
Benton students awarded the following grants:
Benton Area School District—Family STEM Night, $500
Benton Area School District—Growing Greens for Life Skills Expansion, $400
Benton Area School District—PAWS, $400
Benton Area School District—School and Community Development, $1,500
Benton Area School District—SPARK Outreach, $200
Northern Columbia Community & Cultural Center—Meals and Food for Kids Kamp, $1,500
The Children's Museum—Summer Camp Initiatives: Resources for Benton, $500
Berwick students awarded the following grants:
Berwick Theater and Center for Community Arts—Projection Room Equipment Upgrade, $500
Beyond Violence—Youth Counseling Activities, $500
Eos Therapeutic Riding Center—Scholarship for One Rider, $485
For the Cause—Teen Center: Teen Tech, $2,515
The Children's Museum—Teen STEM Programming, $500
The Exchange—Art Cart, $500
Bloomsburg students awarded the following grants:
AGAPE Love From Above To Our Community—Daily Bread Program, $500
Bloomsburg Memorial Elementary School—Giving Back to Our Schools, $500
Kelsey's Dream—Helping Children with Cancer, $500
Saint Columba Church—Food Cupboard Panther Packs, $3,000
The Children's Museum—Scholarship Programs, $500
Central Columbia students awarded the following grants:
AGAPE Love From Above To Our Community—TOGO Food 4 Kidz and Women in Need, $1,000
Foundation of the Columbia Montour Chamber of Commerce—Students Coping 2 Thrive, $1,500
Orangeville Public Library—Summer Reading Program, $500
Saint Columba Church—More Spaghetti Sauce for Food Cupboard Families, $750
The Children's Museum—All Abilities Nights at the Museum, $500
The Exchange—Art Cart, $750
Columbia-Montour AVTS students awarded the following grants:
Beyond Violence—Youth Counseling, $500
Columbia-Montour AVTS—Special Education Department Flexible Seating, $3,000
Eos Therapeutic Riding Center—Scholarship for One Rider, $485
Single Mothers Individually Living Empowered—High School Back Packs, $515
The Children's Museum—Maker Faire: Manufacturing Project, $500
Danville students awarded the following grants:
Danville Child Development Center—Sensory Play for Sound Emotional Health, $1,000
Foundation of the Columbia Montour Chamber of Commerce—Danville Ironkids Mental Health Initiative, $1,500
Good Samaritan Mission—Many Hands Helping Others, $1,500
PA Swarm—Youth Support, $500
Transitional Housing and Care Center—Feel Through Art, $500
Line Mountain students awarded the following grants:
Ronald McDonald House of Danville—Camp Dost, $1,000
Transitions of PA—Big Life Journey, $4,000
Midd-West students awarded the following grants:
Cub Scout Pack 3451—Summer Camp, $700
Foundation for Free Enterprise Education—PA Free Enterprise Week 2023 and Speaker Series, $695
Grace Covenant Community Church—Middleburg Town Square Mural Project, $605
Spring Township—Beaver Springs Ball Park, $1,500
Transitions of PA—Big Life Journey, $1,500
Millville students awarded the following grants:
AGAPE Love From Above To Our Community—Food 2 Go 4 Kidz, $500
Millville Area School District—Senior High Student Council Activities, $1,000
Millville Area School District—Opportunities in Communities, $1,500
The Children's Museum—DIY Secret Santa Gifts, $1,000
ThinkBIG Pediatric Cancer Fund—Helping Families Battle Pediatric Cancer, $1,000
Northwest students awarded the following grants:
Fairmount Twp Volunteer Fire & Ambulance Co—Twp Fire Hall Rest Room Renovation, $500
Historical & Preservation Society of the Greater Shickshinny Area—Children's Library Reading Program, $1,000
Northern Columbia Community & Cultural Center—Gym/Weight Room Equipment Upgrades, $700
Northwest Area School District—Junior/Senior Educational Field Trip, $1,000
Northwest Area School District—Nurses Pantry, $300
Northwest Area School District—Positive Behavior Interventions and Supports, $1,500
Selinsgrove students awarded the following grants:
Kelsey's Dream—Helping Children with Cancer, $1,000
Regional Engagement Center—C.A.R.E at the REC, $2,500
Summer SEALS Day Camp—Day Camp 2023, $1,500
Shikellamy students awarded the following grants:
Central Susquehanna Sight Services—Vision for Your Wellbeing, $500
Girls on the Run Mid State PA—Girls on the Run, $1,500
Nicholas Wolff Foundation—Camp Victory: Climbing to Tranquility, $1,000
Shikellamy School District—Middle School Comfort Closet, $2,000
Warrior Run students awarded the following grants:
Donald L. Heiter Community Center—GTS Theatre Summer Camp 2023, $500
Father's Hope—Hope for the Holidays, $400
Kelsey's Dream—Helping Children with CAncer, $500
Kingdom Kidz—SafeKIDZ!, $1,100
Nicholas Wolff Foundation—Camp Victory: Climbing to Tranquility, $500
The Children's Museum—STEM Programs at Montgomery House, $500