April 20, 2023
Community Giving Foundation: Selinsgrove announces grant awards totaling $30,500 to local charitable nonprofits and government agencies through their 2023 competitive process. These awards were funded by the Selinsgrove Unrestricted Fund, Richard and Anna Mary Wetzel Unrestricted Fund, Gloria Faylor Karchner Charitable Fund, Irwin Lentz Fund, and Patricia H. and Richard E. Garman Fund.
Selinsgrove held its annual event on April 19, 2023, to highlight the community connections that drive philanthropy in the Selinsgrove area. During the breakfast, held at Susquehanna University, Foundation staff, board members, grant recipients, and participants in the Youth in Philanthropy program shared personal stories reflecting the impact of community partnerships and local support. It was an inspiring time to celebrate the nonprofit grant recipients and the history of the Foundation's philanthropic growth in the Selinsgrove area.
Community Giving Foundation: Selinsgrove administers 25 endowed and pass-through funds, investing over $70,000 annually to local nonprofits and students. A complete list of funds and more information about the Foundation can be found at csgiving.org/selinsgrove.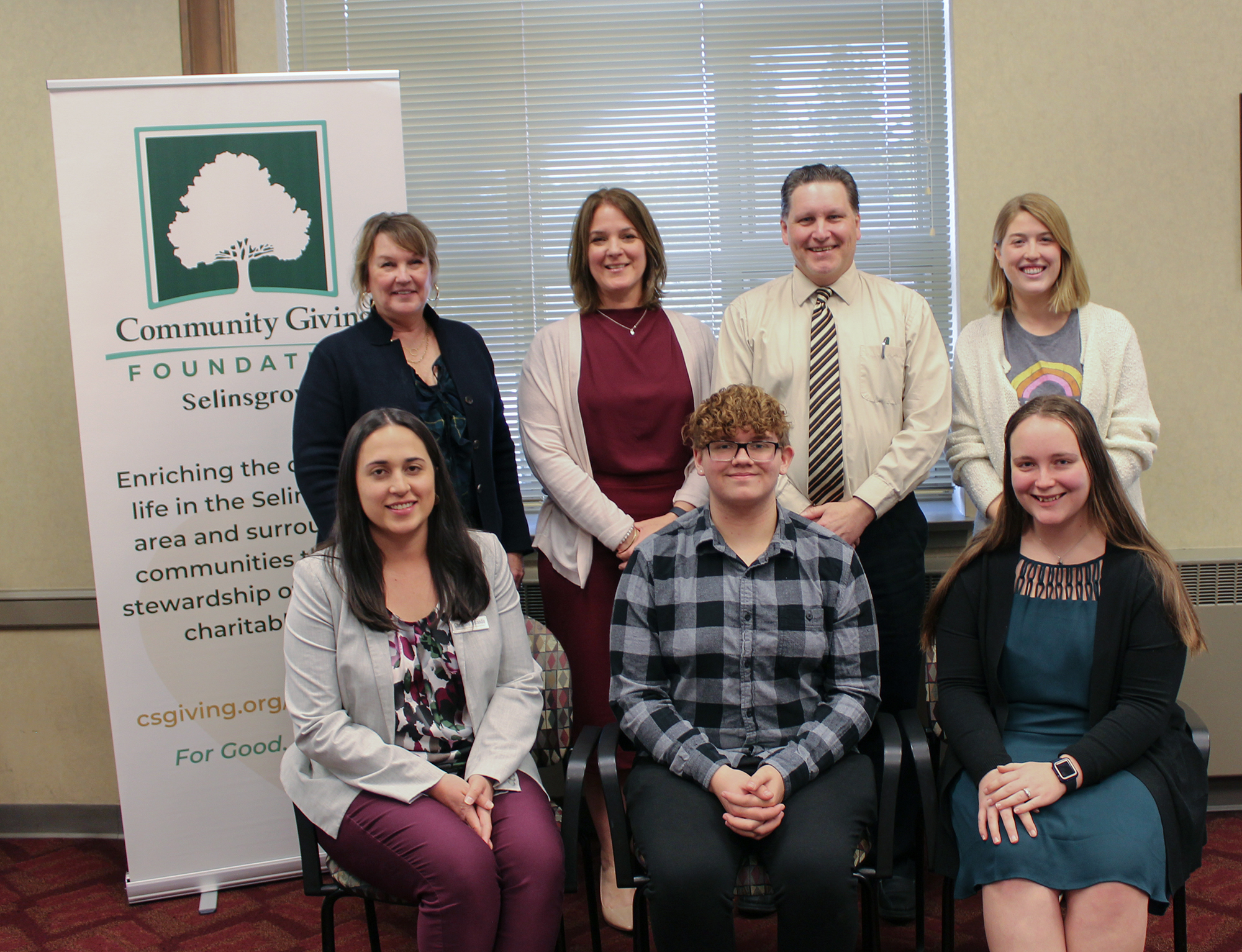 Speakers during the April 19th breakfast. Back L to R: Donna Schuck, Selinsgrove Board Chair; Kara G. Seesholtz, Foundation President and CEO; Chris Blockus, Midd-West Youth in Philanthropy Advisor; Rachael Murphy, Girls on the Run Representative. Front L to R: Christine Orlando, Foundation Director of Philanthropy; Skyylar Epley and Lauryn Aucker, Midd-West Youth in Philanthropy Students.
2023 Competitive Grant Awards
A Community Clinic, Inc.—2023-2024 Healthcare for Uninsured Residents of Selinsgrove Area, $2,500
Central Susquehanna Sight Services, Inc.—2023-2024 Prevention of Blindness/Support for the Blind Programming for Selinsgrove Area, $2,500
Community Giving Foundation Nonprofit Leadership Series—Selinsgrove Area Program Support, $1,000
Community Giving Foundation Youth in Philanthropy—2023-2024 Midd-West and Selinsgrove Program Support, $8,000
East Snyder Regional Recreation Association—Youth Baseball/Softball Field 4-8 Year Olds, $1,500
Girls on the Run Mid-State PA—Fostering Resilience and Healthy Habits in Selinsgrove, $1,000
Leadership Susquehanna Valley—Nonprofit Participant Scholarship 2023-2024, $500
PA Pets, Inc.—Feral Cat / TNR Program, $1,000
Regional Engagement Center—Better Mental Health at the REC, $2,500
Snyder County Coalition for Kids—The Children's Fund, $2,000
St. John Lutheran Church, Richfield—"Tiger Treats" Weekend Food Backpack Program, $2,000
Summer SEALS Day Camp—Camp Program Support, $1,000
Susquehanna River Valley Dental Health Clinic—2023-2024 Dental Care for Uninsured/Underinsured Patients, $2,500
Union-Snyder Community Action Agency—Basic Needs Program Enhancement and Expansion, $2,500
Community Giving Foundation: Selinsgrove is an affiliate of the Community Giving Foundation, which helps administer grant and scholarship investments. Their mission is to help meet a multitude of charitable needs of the Selinsgrove area. Nonprofit organizations that provide programming in the Selinsgrove community and surrounding areas are encouraged to apply during the 2024 competitive grant round. Details will be available January 2024 at csgiving.org/grants.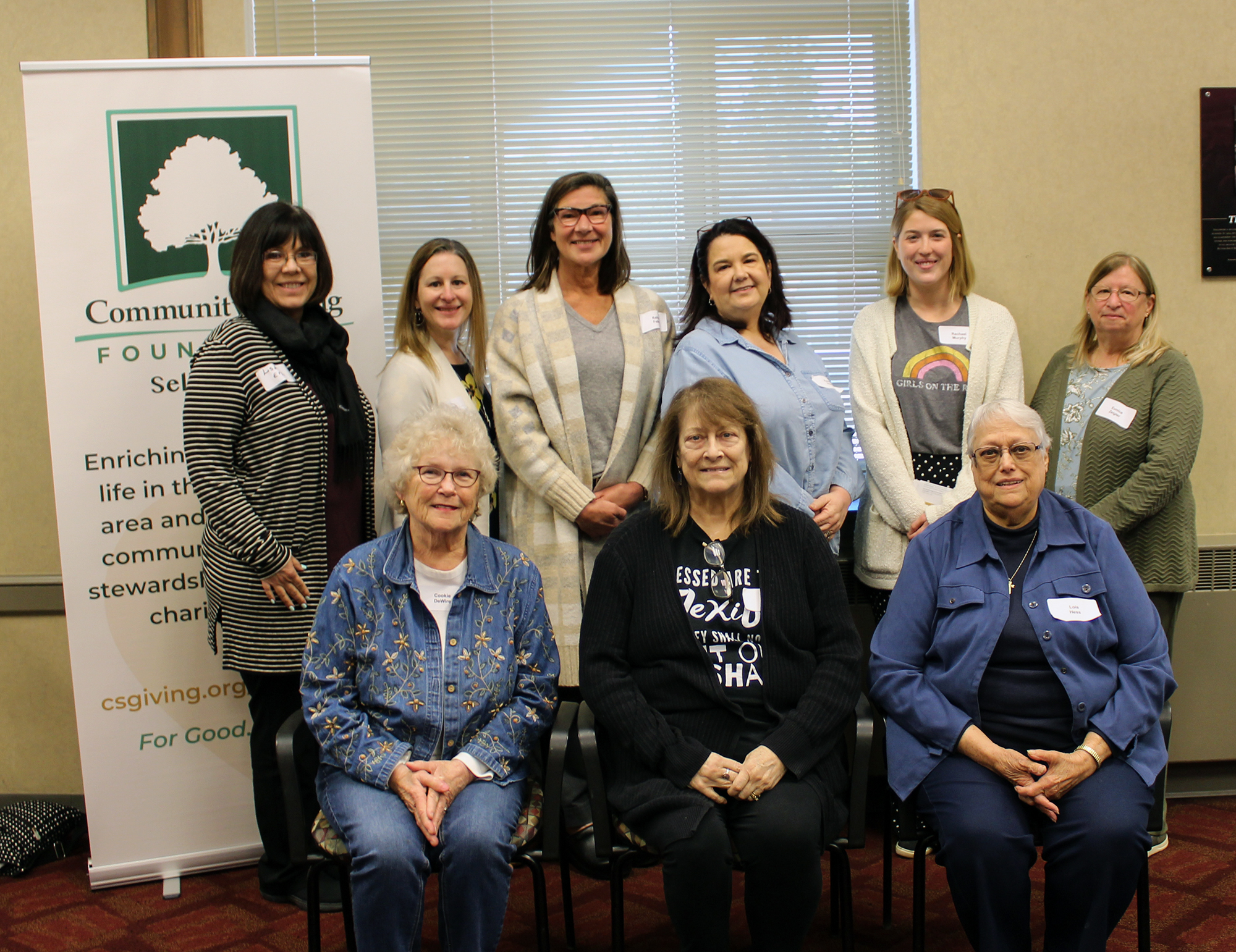 Grant recipients from Selinsgrove's 2023 competitive grant round gather during breakfast on April 19th.