June 2, 2022
Community Giving Foundation: Berwick announces grant awards totaling $778,737 to local charitable nonprofits and government agencies through their 2022 competitive process. These awards were funded by the following funds: Berwick Health and Wellness Fund, Conway and Gertrude Dickson Fund, Myers-Seely Fund, Theron T. Klinetob Fund, and Ray McBride and Edna McBride Fund.
Berwick administers 49 endowed and pass-through funds investing over $1.4 million annually to local nonprofits and students. These funds include scholarship, donor advised, field of interest, designated, agency and unrestricted funds. Berwick recently held a celebratory luncheon on May 24, 2022 at the Berwick Golf Club to recognize grant and donor stories of community giving. An event summary, complete list of funds, and more information about the Foundation can be found at csgiving.org/berwick.
2022 Competitive Grant Awards
AGAPE Love from Above to Our Community—Life Essentials and TOGO Food Backpacks, $25,000
AGAPE Love from Above to Our Community—WIN and Happy Tails, $9,000
Benton Area School District—L.R. Appleman Elementary Playground, $20,000
Berwick Area Ministerium—Heating Assistance, $4,000
Berwick Area School District—Building Achievement through Reading for Kindergarten, $18,988
Berwick Area School District—Counseling Services, $43,726.75
Berwick Area School District—School-Based Prevention Education Services, $15,750
Berwick Area United Way—Grade Level Reading Initiatives, $7,625
Berwick Historical Society—Advertising and Marketing Campaign, $5,000
Berwick Theater and Center for Community Arts—Front Street Concert and Film Series, $5,000
Beyond Violence, Inc.—Shelter Programs, $50,000
Bloomsburg University—20th Annual High School Diversity Conference, $3,000
Borough of Briar Creek—Borough Hall Video and Audio Project, $8,694
Catawissa Military Band—Replacement of Necessary Instruments, $9,000
Central Pennsylvania Food Bank—Supporting Berwick Area Youth and Their Families, $7,500
Central Susquehanna Sight Services, Inc.—2022/23 Preventing Childhood Blindness in Our Community Initiative, $7,500
Central Susquehanna Sight Services, Inc.—2022/23 Social Service Support for Blind/Low Vision Consumers Initiative, $7,500
Child Hunger Outreach Partners—Berwick School District In-School Pantry and Backpack Program, $15,000
Columbia Child Development Program—Positive Behavioral Interventions and Supports for Children and Families, $40,000
Columbia County Commissioners for Columbia County Family Centers—Prevention Programs for Families, $40,000
Family Service Association of NEPA—PA 211 NE, $10,000
For the Cause—Mental Health Hub (drop-in counseling and related programming), $9,974.25
For the Cause—Today's Teen, Tomorrow's Leaders, $175,000
Gaudenzia, Inc.—Telehealth Behavioral Health Care Services, $9,500
Geisinger Health dba Geisinger Health Foundation—Camp Courage, $7,500
Geisinger Health System Foundation: Geisinger Child Advocacy Center—Utilizing Forensic Interviews to Support Trauma Victims and Combat Child Abuse, $10,000
McBride Memorial Library—Children and Family Programming, $13,731
McBride Memorial Library—Library Safety: New Fire Equipment and Second Point of Egress in Children's Library, $6,900
Nicholas Wolff Foundation, Inc.—Camp Victory Programs & Services, $20,000
Northern Columbia Community & Cultural Center—Summer and Winter/Fair Week Camp Support, $20,000
Northern Columbia Community & Cultural Center—Youth and Adult Fitness/Sports Programs, $4,000
Northwest Area School District—JumpStart, $23,000
PA Pets, Inc.—Program Support, $2,500
Resurgent Life—Improving Mental Health and Behavioral Health through Community Awareness Opportunities, $20,000
Salem Township Police—Salem Police Taser Project, $9,943.41
Single Mothers Individually Living Empowered, Inc.—Mind & Body Stress Relief, $2,500
The Children's Museum, Inc.—Bridging the Gap: Enrichment Programs, $13,500
The Little Children Development Center—Nutritious Food, Cardiovascular Health, and Exercise Project, $9,000
The Salvation Army, Berwick—Heart-Smart Initiative, $7,500
Transitional Housing and Care Center of Columbia and Montour County—Housing First, $7,500
Transitional Housing and Care Center of Columbia and Montour County—Road to Independence, $25,000
United Way of Columbia and Montour County—United in Recovery: Berwick Focused Prevention, Education, and Community Support, $10,000
Wesley United Methodist Church, Nescopeck—Milk, Egg, Bread & Butter Distribution, $10,000
WVIA Public Media—Speaking Grief: Understanding and Advocacy, $5,000
Berwick is an affiliate of the Community Giving Foundation, a 501(c)(3) organization that develops, manages, and distributes funds for charitable purposes in communities across the Central Susquehanna region. Nonprofit organizations that provide programming in the Berwick community and surrounding areas are encouraged to apply during the 2023 competitive grant round. Details will be available January 2023 at csgiving.org/grants.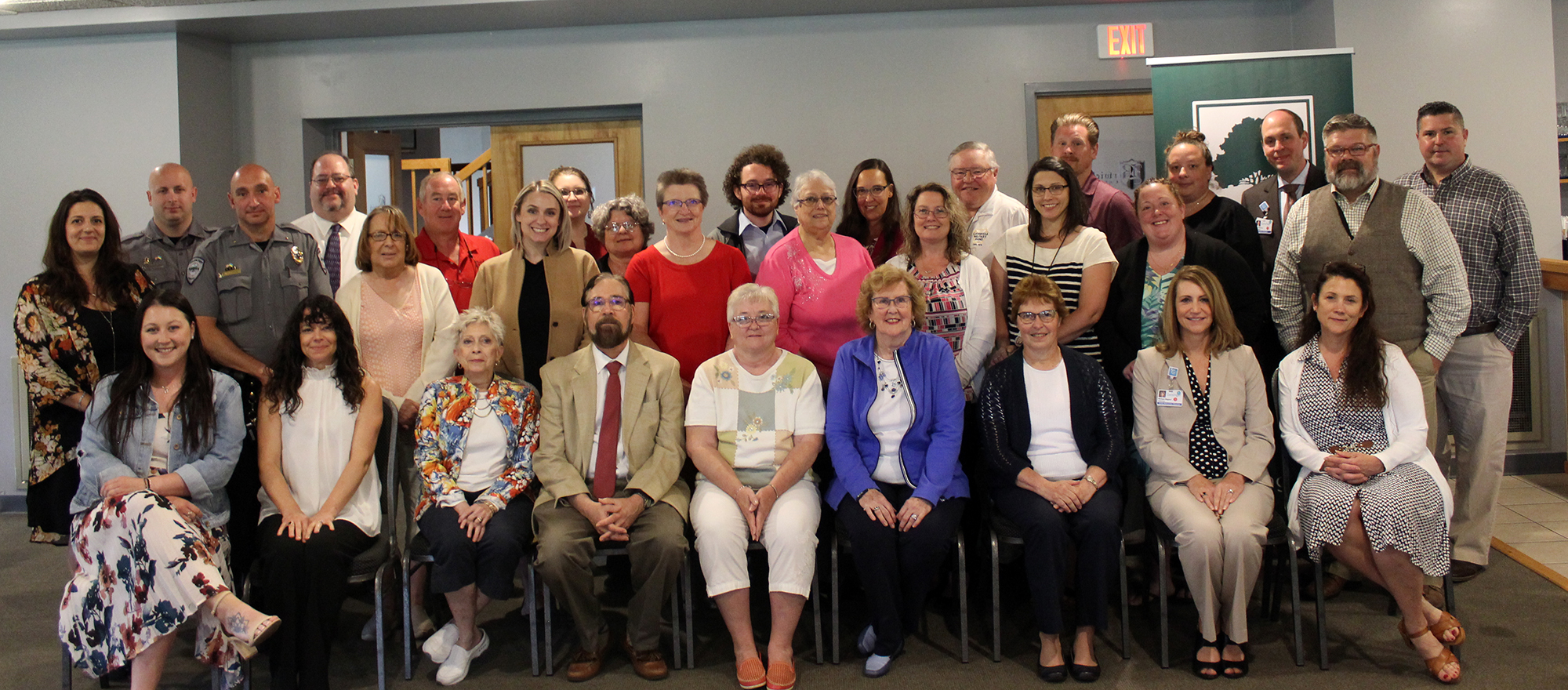 Pictured above, grant recipients from Berwick's 2022 competitive grant round pose during the celebratory luncheon on May 24th.