May 23, 2022
Community Giving Foundation: Selinsgrove announces grant awards totaling $28,500 to local charitable nonprofits and government agencies through their 2022 competitive process. These awards were funded by the following funds: Selinsgrove Unrestricted Fund, Richard and Anna Mary Wetzel Unrestricted Fund, Gloria Faylor Karchner Charitable Fund, Irwin Lentz Fund, and Patricia H. and Richard E. Garman Fund.
Selinsgrove administers 23 endowed and pass-through funds investing over $70,000 annually to local nonprofits and students. These funds include scholarship, donor advised, field of interest, designated, agency, and unrestricted funds. Selinsgrove recently held a celebratory luncheon on May 3, 2022 at Isabella Ristorante to recognize grant and donor stories of community giving. An event summary, complete list of funds, and more information about the Foundation can be found at csgiving.org/selinsgrove.
2022 Competitive Grant Awards
Big Brothers Big Sisters of NEPA—SMART Mentoring Program, $1,000
Birthright of Sunbury, Inc.—Infant Mini-Layettes for Low-Income Mothers, $500
By Grace Women's Transitional Home—Freezer Need, $1,000
Camp Koala—2022 Spring Camp, $1,000
Central Susquehanna Sight Services, Inc.—2022/23 Prevention of Blindness Programming for Selinsgrove Children, $1,000
DIG Furniture Bank—Delivering Sleep to Selinsgrove Area Families, $1,000
East Snyder Community Garden—Parking Lot Improvements, $1,500
Family Service Association of NEPA—PA 211 NE/Help Line, $1,000
PA Pets, Inc.—Feral Cat / TNR Program, $1,000
Penn Township—Disabled Adult Changing Table for Park Restroom, $1,000
Regional Engagement Center—MakerSpace Hub, $1,500
Richfield Community Center—Basom Park Improvement Project, $1,500
Summer SEALS Day Camp—Camp Support, $1,000
Susquehanna River Valley Dental Health Clinic—2022/23 Dental Care for Uninsured/Underinsured Patients, $2,500
Susquehanna University Kids' College—Program Support, $1,000
The Arc Susquehanna Valley—Selinsgrove AMPES, $1,000
Union-Snyder Community Action Agency—Flexible Food Solutions for Families Facing Housing Instability, $2,000
Selinsgrove is an affiliate of the Community Giving Foundation, a 501(c)(3) organization that develops, manages, and distributes funds for charitable purposes in communities across the Central Susquehanna region. Nonprofit organizations that provide programming in the Selinsgrove community and surrounding areas are encouraged to apply during the 2023 competitive grant round. Details will be available January 2023 at csgiving.org/grants.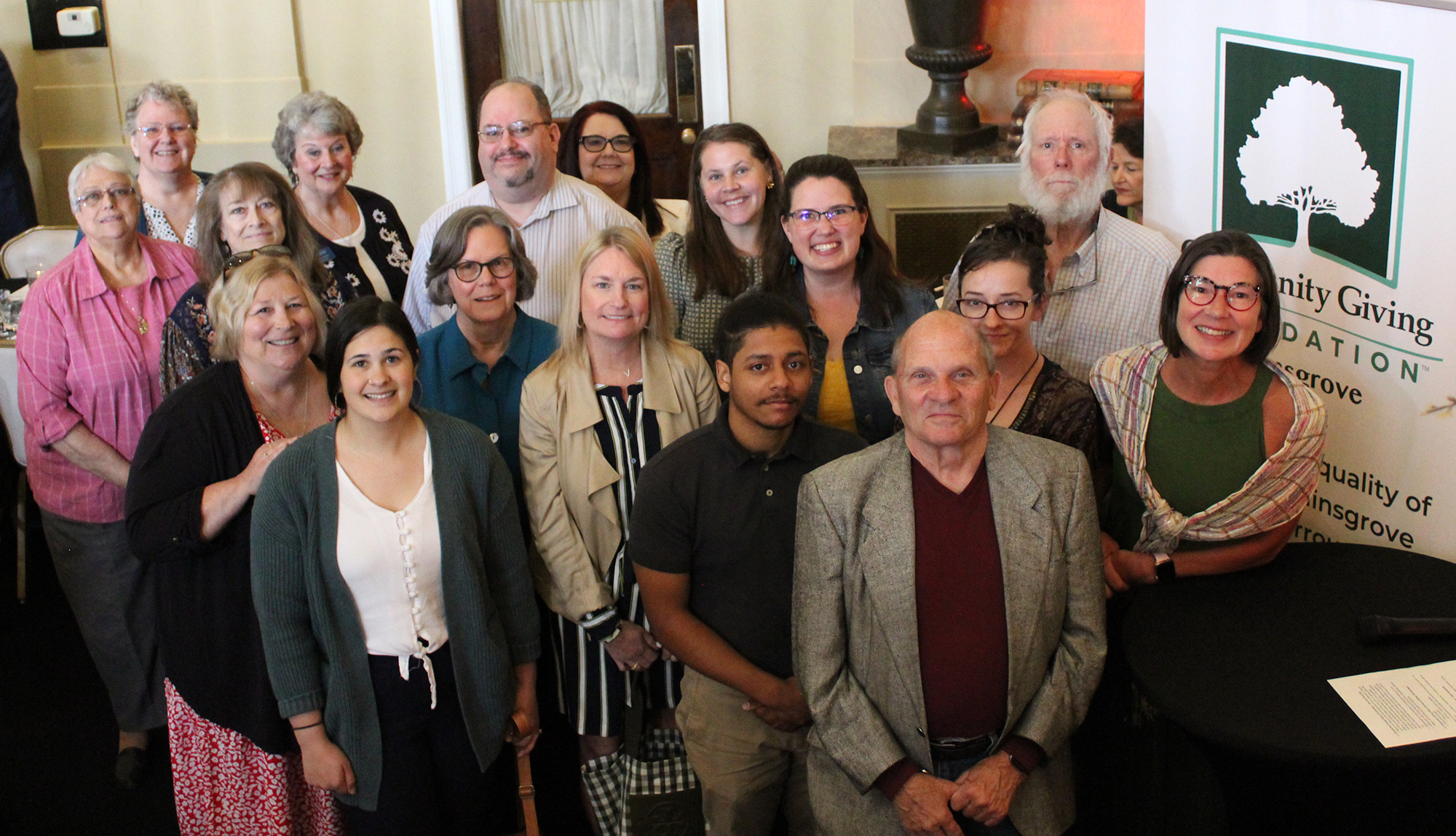 Pictured above, grant recipients from Selinsgrove's 2022 competitive grant round pose during the celebratory luncheon on May 3rd.