March 1, 2019
The Danville Area Community Foundation, an affiliate of the Central Susquehanna Community Foundation, is excited to announce the creation of a new designated fund. Established by Gary W. and Conaley J. Visneski, in memory of her dad, the Ennis-Visneski Fund will provide grants to support the Foundation's Youth in Philanthropy program in the Danville Area School District.
Leo E. Ennis had a heart for encouraging children of any age. The Visneski's felt that the perfect way to honor his memory was through the Youth in Philanthropy program. Mr. Ennis thoroughly enjoyed volunteering as a Little League coach in Towanda for many years, and was known for his warm smile and friendly nature. A devoted father of five, Mr. Ennis was quick to praise the accomplishments of his children. "He was a good, kind and gentle man," remembers daughter Conaley.
Dedicated to enriching the quality of life in the greater Danville area, the Danville Area Community Foundation (DACF) thrives on the generous hearts of people like Mr. Ennis and the Visneski's.
"It is wonderful to see a family want to impact their community by supporting a cause dear to a loved one's heart. The Ennis-Visneski Fund is one way we can carry on Mr. Ennis' memory and celebrate his passion for encouraging local youth, and the Danville Area Community Foundation is honored to partner with his family in this endeavor," states Ken Ackerman, DACF board chair.
The Foundation's Youth in Philanthropy (YIP) program aims to engage young people in philanthropic giving. High school students in eight school districts are given the opportunity to participate in the grantmaking process by researching school-based and community needs and developing grant criteria. Students involved in the program learn firsthand about local nonprofits and work together to invest in their schools and community, effectively building a culture of philanthropy among their peers.
"We are honored to partner with the Visneski Family as our Danville YIP program continues to encourage local youth to become a generation of active, lifelong philanthropists," states Holly Morrison, Foundation president and CEO.
Contributions can be made to this fund online at csgiving.org, or mail to the Central Susquehanna Community Foundation, Attn: Ennis-Visneski Fund, 725 West Front Street, Berwick PA 18603.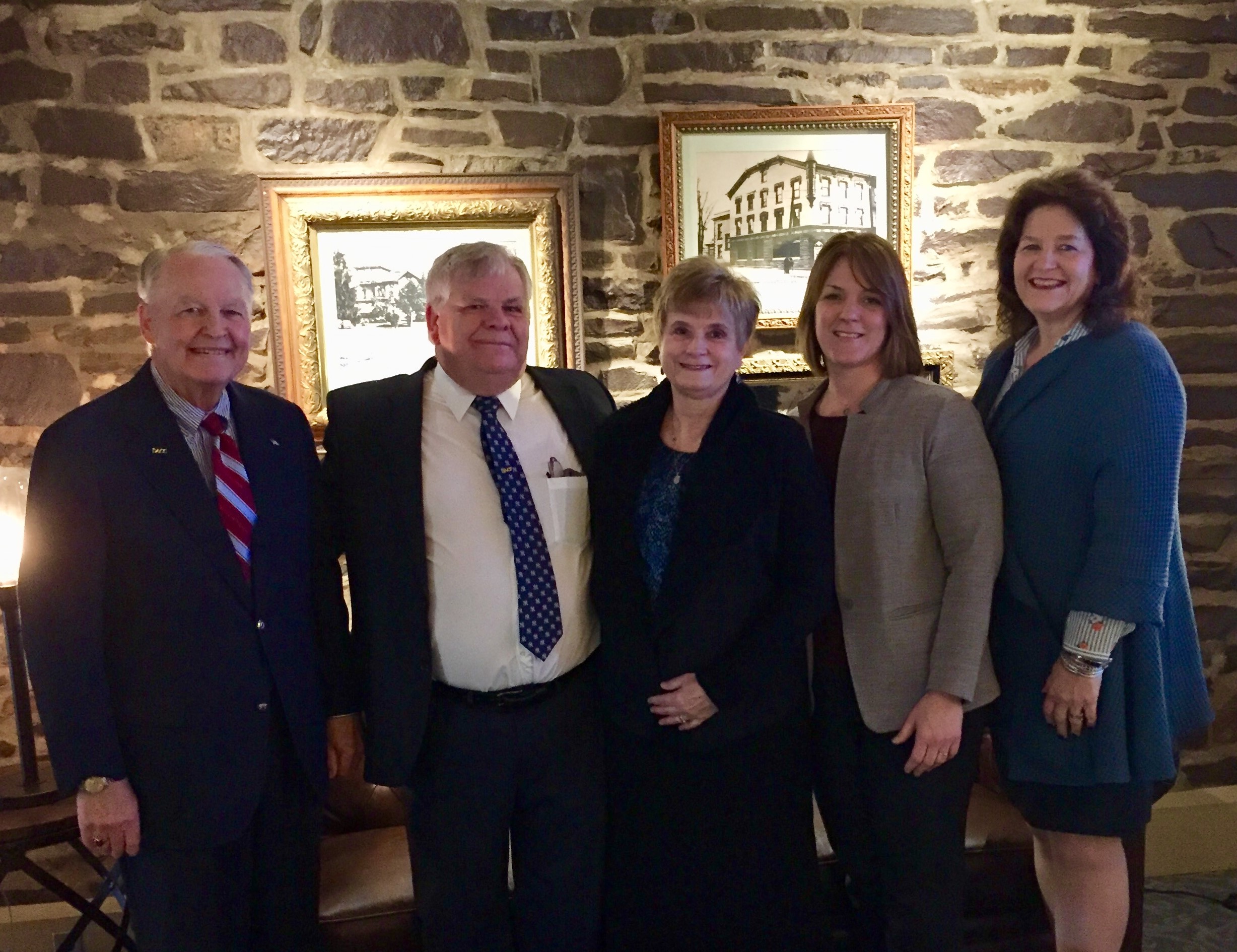 From L to R: Ken Ackerman, DACF board chair; Gary Visneski, DACF board member and fundholder; Conaley Visneski, fundholder; Kara G. Seesholtz, CSCF chief advancement officer; Dr. Holly Morrison, CSCF president and CEO.