April 27, 2018
The Selinsgrove Area Community Foundation (SACF) recently awarded $12,500 to local nonprofits during its competitive grantround. The awards were granted through the Selinsgrove Area Community Foundation Fund, Richard and Anna Mary Wetzel Unrestricted Fund, Keiser Family Trust Fund, Gloria Faylor Karchner Charitable Fund, and Robinson Family Donor Advised Fund.
The SACF focused its funding on organizations that invest in community programs and projects within Selinsgrove and surrounding areas. Those grant recipients include:
Central Susquehanna Sight Services, Inc. – CSSS 2018/2019 Prevention of Blindness Initiative for Selinsgrove, $750
Central Susquehanna Valley Mediation Center, Inc. – Selinsgrove Middle School Peer Mediation Program, $1,000
Far Point Animal Rescue – Organization Support, $1,000
Girls on the Run of Greater Susquehanna Valley – Girls on the Run Financial Assistance Program, $500
Greater Susquehanna Valley United Way – GSV United Way Born Learning Trail Selinsgrove, $1,000
Regional Engagement Center – Science Technology Engineering Art and Math (S.T.E.A.M.) supplies for Supervised Sumer Camp 2018, $1,000
Selinsgrove Area Meals on Wheels – Delivering Nutritious Meals for those in Need, $1,000
Soroptimist International of Snyder, Union and Northumberland (SUN) Counties – Dream It, Be It: Career Support for Girls, $1,000
Summer Seals Day Camp – Day Camp, $1,000
Susquehanna River Valley Dental Health Clinic – Project WaveOne, $1,000
Susquehanna University Kids' College – Kids' College, $800
Susquehanna Valley CASA – Voices for Children – Technology Improvement Upgrade Project, $400
Susquehanna Valley Chorale (SVC) – Youth Chorale, $500
The Arc Susquehanna Valley – Selinsgrove Area Social & Self-Sufficiency Programs, $500
Union-Snyder Community Action Agency – Ride2Learn, $800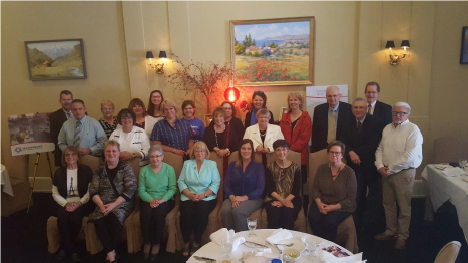 The Selinsgrove Area Community Foundation is an affiliate of the Central Susquehanna Community Foundation which helps administer SACF's grant and scholarship investments. Their mission is helping to meet a multitude of charitable needs of the Selinsgrove area. Nonprofit organizations that provide programming in the Selinsgrove community and surrounding areas are encouraged to apply during the 2019 competitive grantround. Details will be available February 2019 at csgiving.org.
The SACF hosted a grantee and fundholder luncheon at Isabella Ristorante on April 27, 2018 to present their grants and celebrate the impact of the Foundation.