January 26, 2022
Community Giving Foundation recently welcomed two new members to its regional Board of Directors.
John J. Grabusky
John Grabusky has more than 30 years of experience in marketing, public relations, and fundraising around community development and social responsibility for nonprofits and healthcare. His personal passion is for raising awareness and education for and about the LGBTQ+ community. He is a board member of the Keystone Pride Resource Institute and the Danville Area Community Center. He has an MBA from Saint Joseph's University and resides in Bloomsburg.
"Community giving brings to life the saying: 'Give a person a fish and you feed them. Teach a person to fish and you give them life.' Community giving helps bring sustainability to issues impacting the specific people of a region. The enthusiasm of everyone involved with the Community Giving Foundation is refreshing and contagious. I am excited to be a part of it."
Ryan McNally
A native to the area, Ryan McNally is a graduate of Mifflinburg Area High School. He earned a Bachelor of Science in Exercise Science from the University of Mount Union and is expecting to graduate with an MBA in Healthcare Management in the Spring of 2023 from Messiah University. Since 2016, McNally has been employed at Evangelical Community Hospital in multiple roles. Currently, he is the Director of The Miller Center and Community Health Initiatives, where he is responsible for the overall management of the Miller Center and outdoor facilities, the Hospital's Community Health and Wellness initiatives, and Mobile Health of Evangelical. In the community, McNally serves on the Board of Directors for the Union-Snyder Agency on Aging, the Greater Susquehanna Valley Chamber of Commerce, Dreamcatcher Farm Education Outreach, and Leadership Susquehanna Valley. He lives in Mifflinburg with his wife and daughter.
"To me, community giving means contributing towards the greater good that fuels the overall health of a region. There are many needs within the community that are satisfied by programs, services and nonprofit businesses that rely on community support to live out their missions. In my professional role, my focus is on the health of the community, which greatly aligns with the winning aspiration of the Community Giving Foundation. I am looking forward to being a part of the Foundation Board and governance process that will help live out the Foundation's aspiration to enhance quality of lives in the region, therefore supporting the health of the community as a whole."
About Community Giving Foundation
In addition to the two new board members, the Foundation Board is represented by: Dr. John M. Kurelja, Ed.D. (chair), Harry Mathias (vice-chair), Marissa Marshall Golla, Esq., CELA (secretary), John Thompson (treasurer), Dr. Robert L. Albertson, O.D., Hon. Richard P. Cashman, Jeff Cerminaro, Rep. Lynda Schlegel Culver, Julie Eriksson, Michael Goresh, Jeff Hollenbach, Nancy Marr, Greg Martz, Angela Motto, and Wendy Tripoli.
The Community Giving Foundation manages over 325 charitable funds and makes grant investments throughout the region to improve the quality of life in the Central Susquehanna area.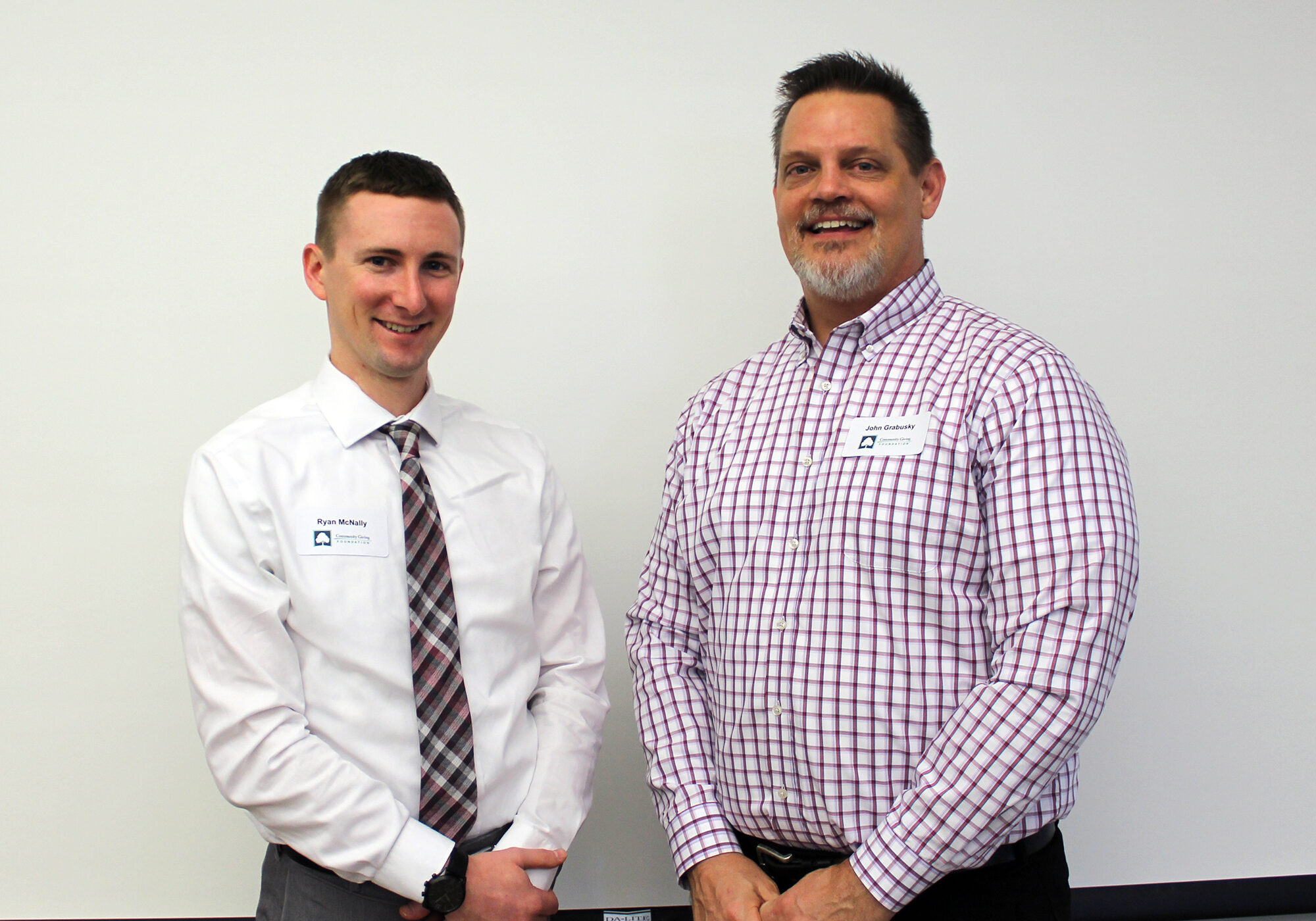 Ryan McNally and John Grabusky