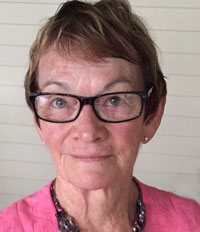 Poverty and Getting Ahead
Joan F. Miller, RN, PhD
Bloomsburg University, Professor Emerita
In general, poverty is defined as lack of financial resources. However, poverty may also include absence of educational, social, spiritual, family, and other essential resources. Poverty has an impact on both the individual and the community. Women and children are most vulnerable to the negative impact of poverty. The Getting Ahead Program, a 15-week educational program, helps individuals break the cycle of poverty through focus on personal, community, and institutional resources. Bridges Out of Poverty is a program designed to help communities reduce the overall impact of poverty through the creation of collaborative and sustainable programming.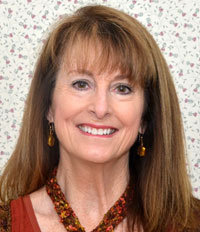 Sexual Abuse Against Women and Girls
Susan Mathias, Transitions
On Monday, March 13, Susan Mathias met with the Giving Circle to describe the services of Transitions, the Comprehensive Crime Victim Services Center serving victims of domestic violence, sexual assault, human trafficking and other serious crimes in Union, Snyder and Northumberland Counties. The focus of her comments was on sexual violence against women and children. With one in four girls and one in four boys experiencing sexual assault before the age of 18 in the United States, many victims are dealing with this trauma from an early age.
Transitions provides a trauma-trained counselor at no cost for victims of any age and Susan said that we need the help of the community to let people know about these services. Susan also described Transitions' role in the region and the state of PA addressing commercial sexual exploitation. Many people do not understand how pervasive this crime is and again, the prevention focus needs to be on our children as the average age of entry into trafficking is 13 for both boys and girls. The discussion was wide ranging as the group discussed what could be done to make the Susquehanna Valley a safe and healthy place. Information at www.transitionsofpa.org and 24-hour hotline 800-850-7948. The hotline is staffed with trained professional crisis counselors who live in the Susquehanna Valley.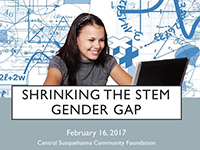 Science, Technology, Engineering, Art and Math
The State of Girls and Women in STEM
Tanya Dynda, CSIU
Tanya Dynda, CSIU's Technology Integration Support Specialist, provided a conversation with the Women's Giving Circle around the current STEM initiatives within K-12 education, with an emphasis on shrinking the gender gap in the STEM field. She offered relevant statistics of interest when it comes to girls going into STEM related fields as well as ways K-12 education can continue to shift the stereotypes. One significant initiative is the push for a stronger computer science presence in K-12, and a quality resource shared during this presentation was the new Computer Science Discoveries developed by Code.org. CS Discoveries is an introductory computer science course that empowers students to create authentic artifacts and engage with computer science as a medium for creativity, communication, problem solving, and fun. To learn more, go to https://code.org/educate/csd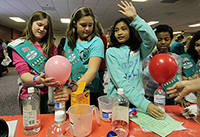 Science, Technology, Engineering, Art and Math
STEM Magnet Program
Kim Bolig
In the four years since its inception with the STEM Magnet Program, the Regional STEM Education Center has grown. Created to address the growing need for college graduates from the fields of science, health science, technology, engineering, and mathematics, the Center was established to create programming that focused on developing a K-12 STEM pipeline, provide professional development opportunities for regional school teachers, offer innovative and discovery-based programming for regional elementary and middle school students, and develop math and science education leaders. The STEM Magnet Program for regional high school juniors and seniors has grown to include 12 regional school districts, three tracks (Engineering, Health Sciences, and Technology), and 119 participating students over the four years. In Fall 2017, the STEM Magnet Program will add another 45 students to the program, three more school districts, and an additional track (Education). In addition to this, programming has also included GI-STEM: Girls in Science, Technology, Engineering, and Mathematics (570 girls participating), the Great STEM Adventure Camps (925 elementary and middle school students participating), Future Careers Expo (520 middle and high school students and parents along with 60 exhibitors participating), and the STEM Teacher Institute (80 elementary, middle and high school teachers participating). The Center has also worked with three school districts to bring STEM to their Science or STEM nights and with the Girl Scouts in the Heart of Pennsylvania on their STEM Expo. In all, the Center has worked with over 4,000 individuals through STEM programming to date and, each year the numbers for our events keep increasing as we grow partnerships with organizations such as the Women's Giving Circle.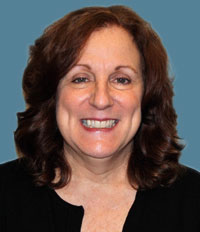 Empowering and Connecting Women and Girls to Available Resources and Self-Sustainability
What Women of Limited Income and Resources Need to Succeed
Kim Eroh, Project ELECT, Manager and Pinnacle Place, Director
I was delighted to have the opportunity to present "What women of limited income and resources need to succeed" to Women's Giving Circle. My vast knowledge of the subject is based on 23 years of hands-on experience working with pregnant and parenting youth and the challenges associated with their situations. The fundamental and emotional needs of young women, their not so obvious but significant hidden daily struggles, as well as ways to provide guidance and support were discussed.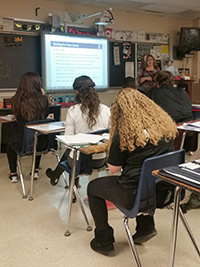 Financial Confidence
As part of our journey to identify the financial needs of women and children in our area, we tapped the expertise of some of our WGC Steering Committee Members: Linda Brown, Chief Administrative Officer for Service 1st Federal Credit Union, and Elaine Woodland, Chief Operating Officer and EVP at First Keystone Community Bank.
We learned financial stability can be an uphill battle for women. Generally, here's why:
Women tend to live longer than men
Women take breaks from the workplace to care for children and elderly parents
While women save a higher percentage of their paychecks then men, they end up with smaller balances because they get paid less
Women of all ages and income levels struggle with finances
Women are also resilient and are open to learning more about their finances. Financial literacy is key! Here are some of the positive things happening on the financial front:
Women are open to seeking out advisors for assistance
Women investors are seeing success as they are less prone to risky investments
There are great programs happening currently in the Susquehanna Valley to bridge the financial literacy gap for women and children:
In-school programs are offering an abundance of resources for children of all ages and lead to conversations about finances at home
Student Reality Fairs offer juniors and seniors a safe environment to evaluate the impact choices in careers and lifestyle have on a monthly budget
Student Car Buying Experiences bring students face-to-face with a used car dealer and the process of selecting, financing and insuring a used car in a simulated environment
Retirement Fairs enlighten adults that it's never too early or late to save for retirement