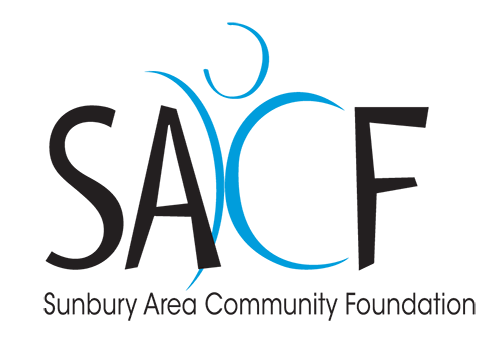 Board Members
Jeff Hollenbach, chair
Steve Dagle
Craig DeFazio
Steve Engle
Adam Purdy
Donna Spangler-Boop
Robert C. Zimmerman
The Sunbury Area Community Foundation (SACF) is helping to meet a multitude of charitable needs in the Sunbury area. Annually, more than $150,000 in grants are awarded to organizations that invest in programs and projects that specifically target health-related goal areas such as children's health, early childhood, oral health, issues regarding the working poor, and coronary care. In addition, approximately $35,000 is provided in scholarships on a yearly basis to support students continuing their education.
The Sunbury Area Health Foundation was formed in 2005 out of the sale of Sunbury Hospital. With more than $3 million in assets from the sale, the goal of the SAHF was to improve healthcare in the Sunbury region. In 2006, the Sunbury Area Health Foundation affiliated with the Central Susquehanna Community Foundation and later changed its name to Sunbury Area Community Foundation.
The Central Susquehanna Community Foundation helps administer SACF's grant and scholarship investments. The Sunbury Area Community Foundation continues to provide for charitable healthcare needs and their expanded mission is helping to meet a multitude of charitable needs of the Sunbury area. Geographically, the Foundation serves residents of the Shikellamy, Line Mountain and Selinsgrove School Districts. A local board of directors governs, provides direction, recommends grants and promotes continued growth.
Grants Awarded
The Sunbury Area Community Foundation recently awarded over $160,000 to local nonprofits during its competitive grantround. See the full list of 2019 grant recipients here.
Since 2007...
$1,132,000 awarded in grants to local nonprofit organizations providing impactful and meaningful services to residents of the Sunbury Area.
$219,000 awarded in scholarships to local students pursuing degrees in health-related fields.
Legacy Society Members
Jesse and Maxine Woodring
Cory and Diane Fasold
Fund Listings
View SACF funds and other Central Susquehanna Community Foundation funds here.
Donors can work with the Sunbury Area Community Foundation to meet local charitable interests. You can support a current fund or create a fund in your own name, in honor of someone you love, or to commemorate a special event. You can direct your gift broadly or specifically to the issues you care about most. Please contact the CSCF staff or a SACF board member to discuss how you can partner with your local community foundation to make a difference in the Sunbury area.
For More Information
M. Holly Morrison
President and CEO
[email protected]
570.752.3930, press 3
Kara G. Seesholtz
Chief Advancement Officer
[email protected]
570.752.3930, press 4