The Nonprofit Leaders Series provides free professional development opportunities to nonprofit leaders serving Columbia and Montour Counties. The series is designed by the Central Susquehanna Community Foundation in collaboration with the Berwick United Way and United Way of Columbia and Montour County to provide educational outreach.
A variety of topics are offered throughout each year. Interested nonprofit leaders are welcome to attend any and all sessions that are of interest. Nonprofit leaders are encouraged to share feedback and additional areas of interest with the Foundation for future planning.
Please note: due to current funding restrictions, this series is restricted to nonprofit leaders in Columbia and Montour counties. The Foundation is working to identify ways to expand this geographic area in the future.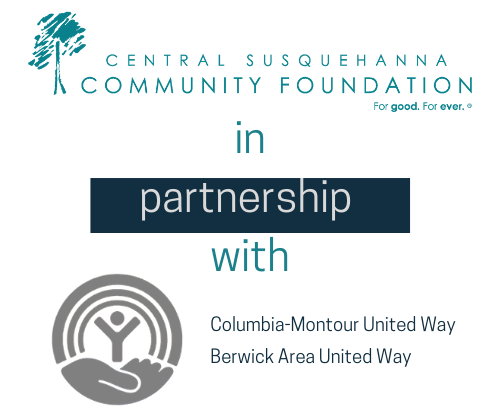 Fundraising for Day of Giving Workshop
February 4, 2020, 8:30am to 1:00pm, at Monty's (Bloomsburg University Upper Campus)
Presented by Danielle Velkoff, Marketing Strategist
Join us for a day of hands-on learning! At the Fundraising for Day of Giving Workshop you will not only learn how to create a campaign around a day of giving (think Giving Tuesday), but you will leave with the tools in place to do so. Learn how to create a marketing strategy around your organization and donors, how to structure the perfect social media post, create a catchy poster and more! Please bring your laptop, logo, and any other tools or images you know you want to use in your marketing campaign. Once these marketing tools are in place you can use them for day-of giving campaigns or grow them into tools for a capital campaign, end of year donation push, or any other fundraising campaign. Bloomsburg University Communication Studies students will be available to help design marketing materials during the workshop.