Press Release
July 30, 2019
Danville, PA - The Danville Area Community Foundation is pleased to announce scholarship awards for local students. These opportunities are available thanks to the many individuals, families and organizations who have established 30 scholarship funds with the Danville Area Community Foundation. Applications for a variety of interests, accomplishments and career choices were accepted from students at the school district. These funds awarded over $92,000 in scholarships to more than 65 Danville graduating seniors. The following students received scholarship awards:
Amacher Family Fund in Memory of Mary Shick Frye: Scott Wintersteen $1,800
Bloch-Selinger Educational Fund: Coleman Cush and Makenna Luzenski $2,362.50 each (multi-year award) and $2,362.50 to six previous graduates.
Carl J. Marrara Memorial Scholarship Fund: Preston Fausnaught $1,000
Cole Family Scholarship Fund: Dean Tice $5,600
Cotner Family Scholarship Fund: Nathaniel Mausteller $2,100
Jack Curry Athletic Scholarship Fund: Shane Kozick $1,200
Danville Area School District Band Boosters Scholarship Fund: Devyn Napp-Barker and Tate Berkey $400 each
Danville Area SD Alumni Association Scholarship Fund: Clara Coombe and Lucas Madison $500 each
Danville Education Association Scholarship Fund "DEA": Jacquelyn Smith $600
Danville High School Class of 1939 Scholarship Fund: Darren Berry, Peyton Persing, Brooke Weaver, Chloe Reeder, Rorie Bass Foresman and Kimberly Weller $1,000 each
Danville High School Class of 1963 Scholarship Fund: Mikaela Hileman $600
Danville HS Class of '43 Scholarship Fund: Kaitlin Kovaschetz $500
Danville Rotary Scholarship Fund: Crystal Jones $400
Deutsch Family Memorial Scholarship Fund: Madelyn Smiley $1,800
Donald J. Seebold Scholarship Fund: Owen Metzger and Erin Cope $2,550 each
Danville Unrestricted Fund (In Memory of Eleanor Burke) Scholarship Fund: Tori Strausser $1,000
Ronald J. Kanaskie Leadership Scholarship Fund: Eric Sees $1,000
Gerald J. Levandoski Memorial Scholarship Fund: Cindy Huang $1,200
Jane Hood Memorial Scholarship Fund: Sophia Mucciolo and Alexis Burrell $2,550 each
Ken and Pat Ackerman Family Scholarship Fund: Shane Kozick, Evan Welliver and Zachary Zerbe $1,500 each
Mollie Harter Memorial Fund: Mackenzie Wright $500
Eister Janssen Scholarship Fund: Charles Baker $1,000
Rechsteiner Family Scholarship Fund: Ethan Cera and Ashley Konjura $1,637.50 (multi-year award) and $1,637.50 to six previous graduates
Mackenzie E. Riley Memorial Scholarship Fund: Isaac Smith $600
Roscoe A. Faust and William C. Heller Family Trust: Leo Fulmer and James Zola $2,750 each
The Simington Family Scholarship Fund: Zachary Holdren $1,300
Valeria Walton Woods Memorial Scholarship Fund: Tyler Albertson, Dyson Harward, Elaina Klinger, Reece Lopatka and Rainey Oldfield $660 each
Walter A. "Whitey" and Nan C. McCloskey Memorial Scholarship Fund: Peyton Riley $700
Joanne McCall Spaide Simington and Paul Simington Scholarship Fund: Hunter Kahley $1,550
Stephanie Husek Scholarship Fund: Terezia Galikova and Lee Ann Bryan $3,000 each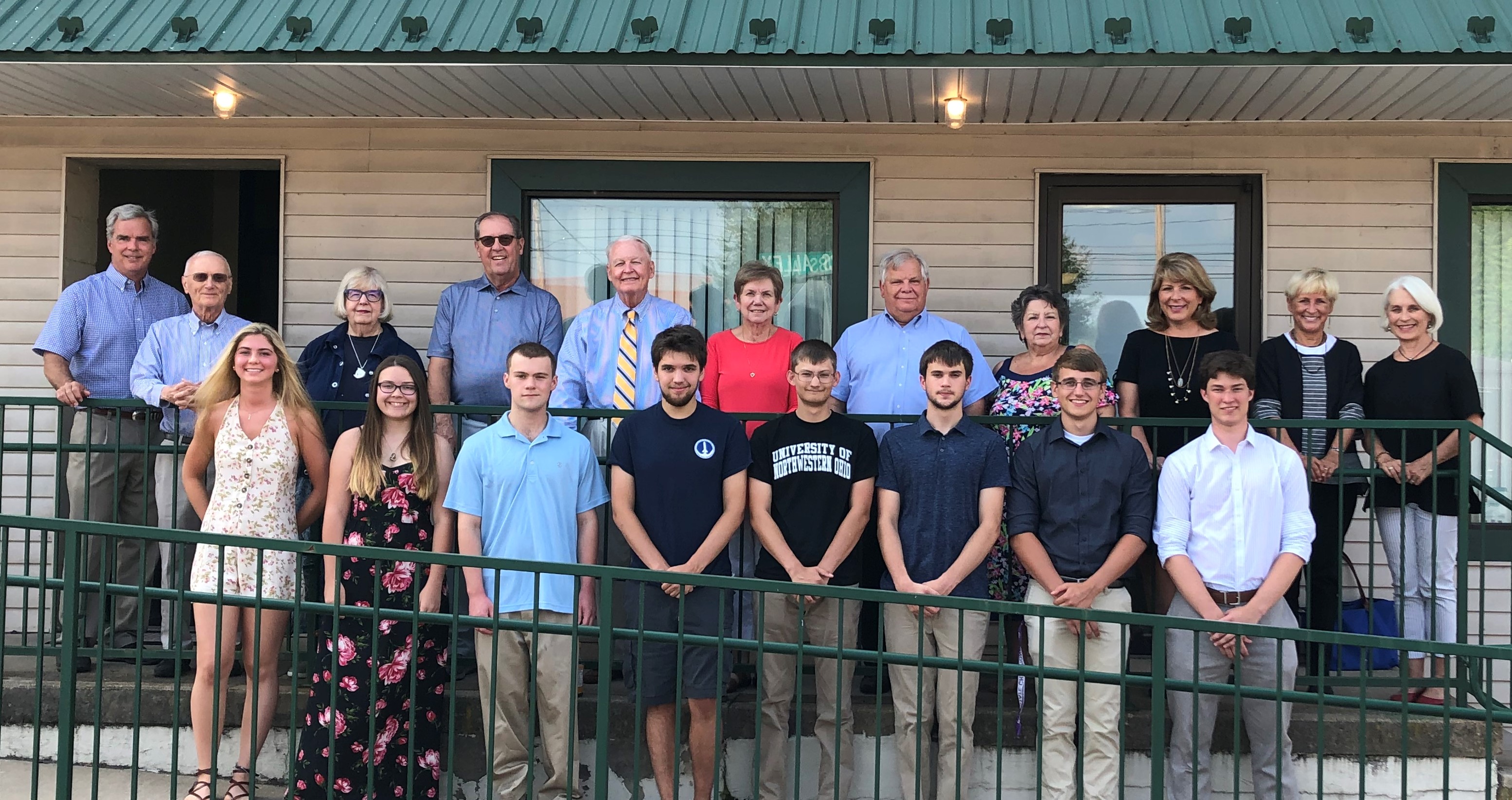 Pictured Above: 2019 scholarship recipients and DACF Board members at the on July 29, 2019.
Back row: DACF Board Members: L to R: Greg Cole, Fred Miller, Bonnie Johnson, Randy May, Ken Ackerman, Jean Knouse, Gary Visneski, Bonnie Trump, Linda Brown, Wendy Tripoli, Linda Marks
Front row: Students: L to R: Brooke Weaver, Alexis Burrell, Dean Tice, Bradley Yeich, Nathaniel Mausteller, Charles Baker, Isaac Smith, Martin Klena