Our Story is Your Story. Your Impact is Our Impact.
Thank you to everyone that attended our 2019 Annual Meeting on March 6 and helped us celebrate 20 years of service in the Central Susquehanna region. This year's event provided a unique opportunity to turn to storytelling to reflect on the impact CSCF has, and to hear those stories from your perspective.
Jerry Stropnicky served as our story facilitator, prompting our 14 storytellers to share about a moment, experienced or witnessed, made possible by CSCF. "This Foundation is doing great work—so much has been done, so many lives touched. This is our chance to share our stories of impact and inspire each other as we weave a beloved community," Jerry explained.
During the meeting, we heard from nonprofit representatives and clients, donors and fundholders, Foundation board members and staff.
Some, like Kayla Zambiasi, a former client and current nurse with Nurse-Family Partnership, shared about personal experiences. "I get so emotional talking about this—because of CSCF and its funding, our program lives. And because of this program, I can be the mother that I wanted to be and knew I could be. Thank you for helping me write my story."
Others shared about positive changes they've seen in their communities because of the work of CSCF. John Kurelja described his previous involvement in the Warrior Run School District: "I think about all the families that don't have the same college debt they would have otherwise—the chance for students to go to school and improve themselves. All as a result of the work of this Foundation. I'm thrilled to be part of it because of the difference it's making."
For CSCF staff, working with the many generous hearts in our community inspires us the most. "Somehow, I ended up getting the opportunity to work with all of you, and that's absolutely my favorite part. I get to see the grant recipients, hear their stories and see their smiles because they're serving people. They're able to do so much more because of your generosity," Kara Seesholtz, CSCF chief advancement officer explained.
"Philanthropy has a great story to tell," Holly Morrison, CSCF president and CEO remarked. "Today we heard stories that were powerful and compelling. Stories about creating jobs, saving lives, rebuilding communities, and teaching the next generation. These are the kinds of stories that will help us understand and protect the important position that philanthropy, through our Foundation, has in our communities."
Each story told that day shared a common theme—it's because of you that CSCF can make a difference. Our Story is Your Story. Your Impact is Our Impact. Thank you for your commitment to philanthropy in our community. We look forward to many more years of partnership as we champion causes "For good. For ever."
View our Annual Meeting photo album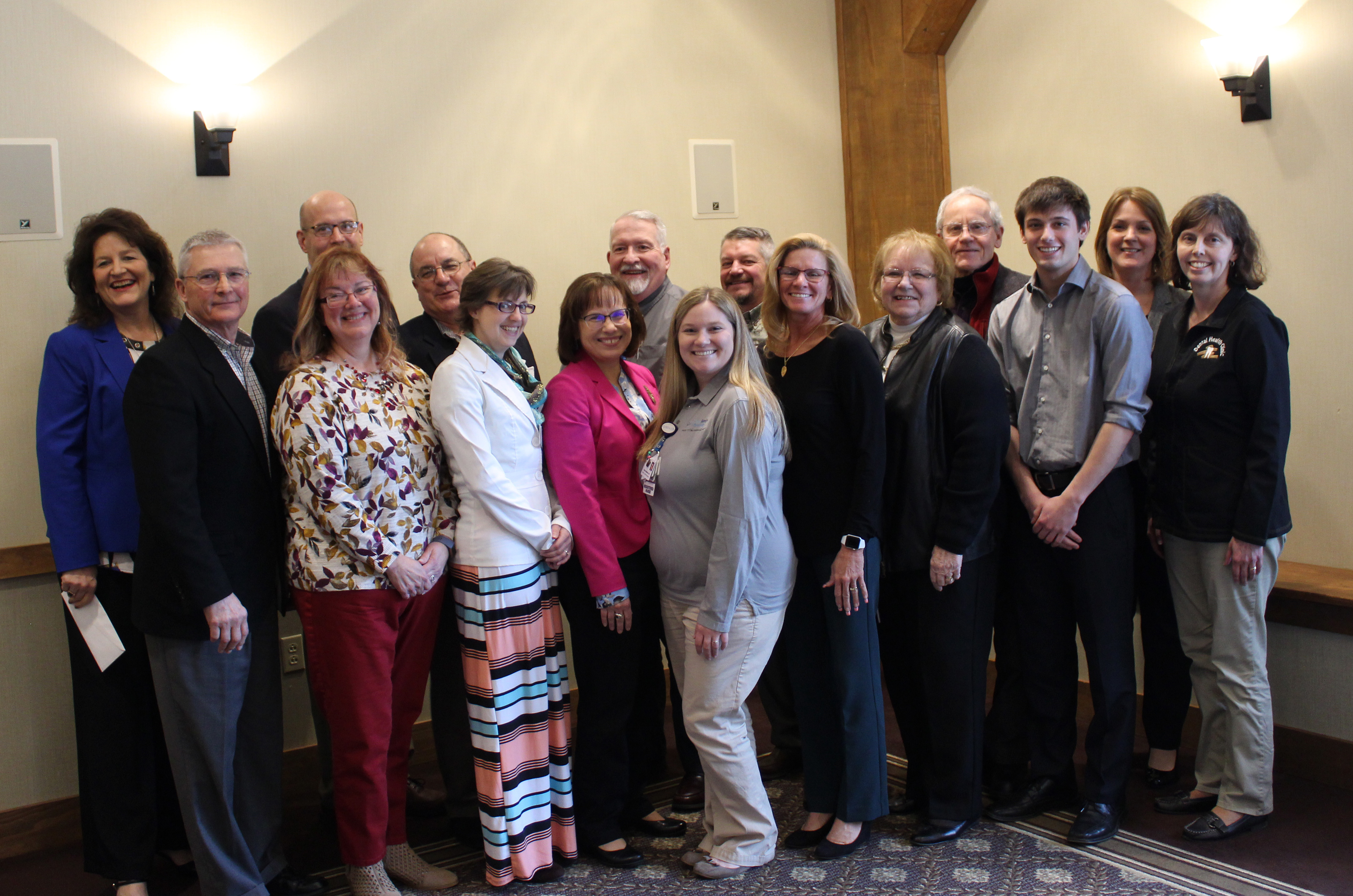 Annual Meeting Storytellers
L to R: Holly Morrison, CSCF president and CEO; Mike Flock, Youth in Philanthropy volunteer and former CSCF and Selinsgrove Area Community Foundation board member; John Kurelja, CSCF board member; Julie Eriksson, Selinsgrove Area Community Foundation board member and Robinson Fund representative; Gerard Stropnicky, story facilitator; Tina DeLong, Nurse-Family Partnership nurse and former client; Ellen Withrow, grant recipient with Central Susquehanna Intermediate Unit and Women's Giving Circle member; Mike Benjamin, Danville Area Community Foundation's Holiday Happenings committee co-chair; Kayla Zambiasi, Nurse-Family Partnership nurse and former client; Cory Fasold, Sunbury Area Community Foundation board member and Mertz Fund representative; Janelle Surkin, Berwick Area YMCA and community volunteer; Sharon Hess, Volunteers in Philanthropy committee member and former Berwick Health and Wellness Fund Advisory Committee member; Mel Endy, Carol Deforest Locke-Endy Fund representative; Vincent Krum, Rechsteiner Family Scholarship Fund and Robin Buehner Kindness Scholarship Fund recipient; Kara G. Seesholtz, CSCF chief advancement officer; Tara King, grant recipient with Berwick Dental Health Clinic